You Need to be Both Comfortable and Safe at Work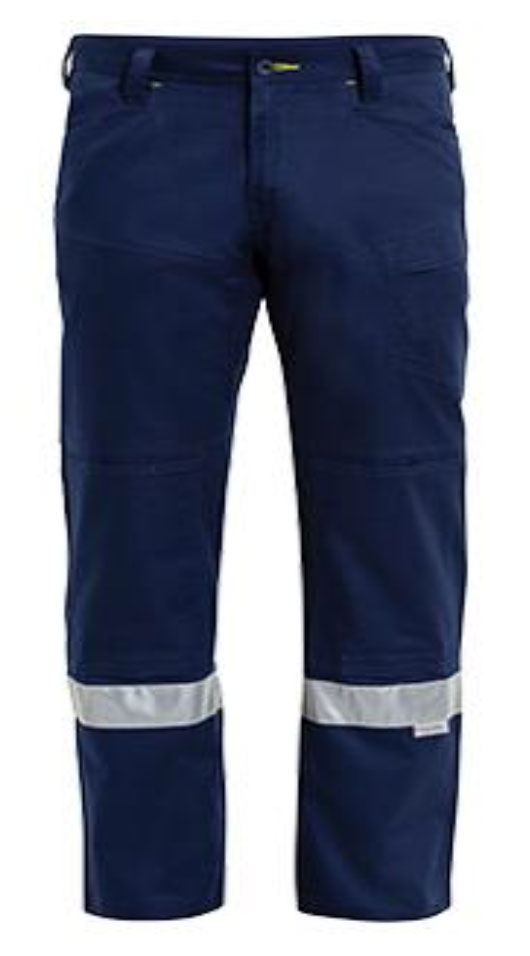 We are all familiar with the old saying, 'clothes make the man.' However, here at The Workers Shop, we prefer saying 'clothes make the workman (or woman) safer.'
Worker safety and comfort are two of our primary concerns at The Workers Shop. That is why, for nearly two decades customers visiting our Osbourne Park store find friendly and knowledgeable staff proudly selling the highest quality workwear at affordable prices.
What is Specialty Workwear?
There are many professions in Western Australia that require nonspecific workwear. However, higher risk jobs often have mandated standards for work gear.
What are Common Types of Specialty Workwear?
HIGH-VIS Rip Stop Garments – This type of workwear has more than one advantage. Many professions benefit from wearing clothing that is HIGH-VIS (high-visibility) to ensure optimal safety. We recommend HIGH-VIS workwear to our customers who work near highways or in heavy traffic areas and workers on construction sites.
Our HIGH-VIS products are exactly what you would expect from high visibility garments and feature bright fabrics and in many cases, reflective strips to help increase visibility after dark.
The Workers Shop carries a wide variety of well-known brands so that you will be seen and be stylish at work. Our most popular brands include: 
In addition to improving worker safety by helping you stand out on the job, the HIGH-VIS clothing is made from RIP STOP material and is extremely comfortable. The 100 per cent cotton pieces are lightweight and made with mesh ventilation to help keep you cool. Rip-Stop Material is specially woven to make the fabric more durable. During the weaving process, thicker reinforcing threads join the fabric in a sturdy crosshatch pattern. Because of the extra reinforcement, an unlikely small tear will not turn into a large hole.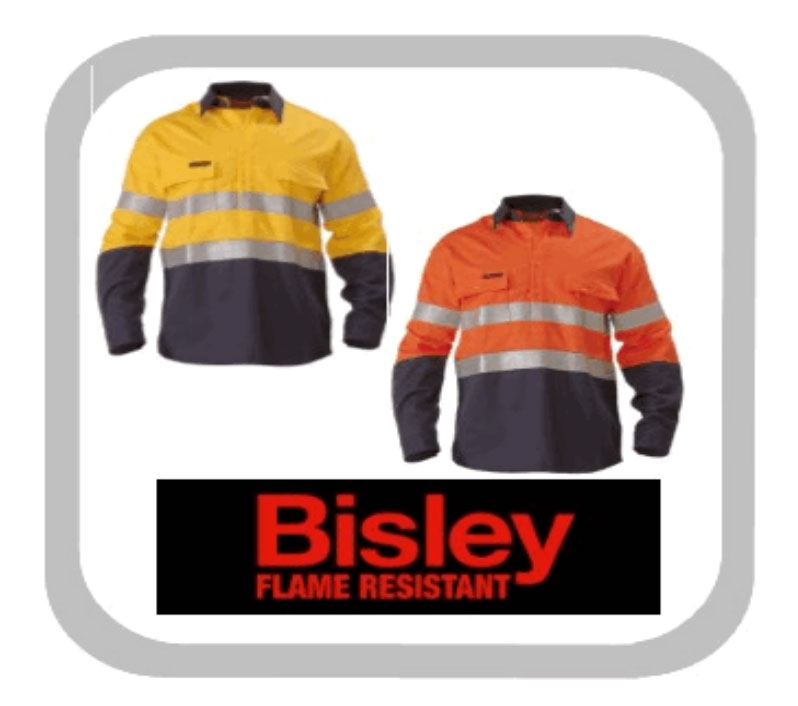 Fire Retardant Workwear – It is not an exaggeration to say that having the right protective clothing can literally be the difference between life and death. No product will prevent 100 per cent of injuries due to a flash fire, sudden ignitions, or an electric arc flash.
However, the materials used in flame resistant garments will disrupt the combustion and prevent fatal injuries such as those that can occur when clothing melts onto a worker's body.
The majority of our fire-retardant clothing goes to firefighters, electricians, gas, and oil workers. Our fire- retardant workwear is made to keep you comfortable while keeping you safe.
What Are Some Reasons for Opting to Get Fire-retardant Workwear for Your Employees?
Compliance with Local, State and Federal Law – The provision of or compensation for Personal Protective Equipment (PPE) is mandated and employers found not in compliance face stiff penalties.
Health and Safety of Employees – Although fire-retardant workwear is not 100 per cent fire resistant, it provides a measurable increase in worker safety. This knowledge helps workers to feel safer and worry less while on the job.
Reduced Cost of injuries, lost time and accident claims – While no company wants to look at employee safety from a strict standpoint of dollars and cents, providing flame resistant workwear will prevent the costs associated with injuries on the job.
Reinforce a culture safety – Knowing that their wellbeing matters to those higher up, will increase employee morale and enhance teamwork. It also encourages employees to look out for each other and call any type of problem the management's attention.
Quality Material Matters
If you were to ask an artist if they notice a difference between working with Windsor & Newton watercolours and a child's palette of watercolours, they would tell you with absolute certainty that there is an extremely noticeable difference that will show in the quality of the artwork.
The same is true if you ask an associate of The Workers Shop if there is much of a difference between a work shirt made of cotton and one made of polyester.
The best designed and well put together workwear will feel and perform differently based on the material content. Here at The Workers Shop, we take pride in maintaining the strictest standards in the garments we sell.
Saving a dollar or two when buying work clothing is not much savings if you must replace the item every few months. Various materials have distinct features that make them preferable in specific circumstances.

What is the Difference Between Cotton and Polyester; Is one Better than the Other?
While each fabric has its positive and negative points, one is not inherently better than the other. It is fair to say that there are situations where the individual characteristics of each make one material preferable to the other.
Characteristics of cotton – Because cotton comes from a plant source, it is exceptionally environmentally friendly, especially when farmed without harsh pesticides and other chemicals.
After being spun into yarn and woven into a fabric, cotton is soft, breathable, and flexible. This makes it especially comfortable and non-irritating, so it is an ideal choice for those with sensitive skin such as babies or the elderly. Cotton is also lightweight making it a favourite choice for warm weather wear.
Cotton tends to wrinkle easily, and when wet it loses its shape. An additional drawback of cotton is it shrinks easily. When the cotton fibres get wet they shrink and if heat is present, the fibres set, and the garment is now permanently smaller.
Characteristics of polyester – Unlike cotton, polyester is a synthetic material made of polymers created via chemical reactions. Because it is easy to manufacture, polyester fabric is less expensive than cotton fabric.
Polyester is extremely versatile, flexible, and has sturdy fibres capable of holding their shape and resisting wrinkles. The fabric is a favourite choice of athletes and those who spend considerable amounts of time outdoors because It dries quickly and can wick moisture away from the skin.
Fabric made of polyester can be uncomfortable in very warm weather because it is not a breathable fabric. It also can stick to skin when the fabric becomes saturated with perspiration. While polyester will not shrink, it can
allow fabric dyes to mix or run.
Is There Middle Ground in Linking These Two Types of Fabrics?
Clothing manufacturers are fond of the results found when cotton and polyester blend to make a single fabric. Typically called polycotton or poly-cotton blend, merging the fabrics brings out the best characteristics of each fabric while diminishing the drawbacks. There are several good results found when cotton and polyester blend including:
The fabric is highly durable
Blends of polyester and cotton take on the softness of cotton
This combination of fibres is colourfast and wrinkle resistant
Polycotton blends shrink very little or not at all even when laundered with hot water or dried in the dryer
The blend is more breathable than polyester and holds colour better than cotton
Polycotton blends are normally less expensive than either fabric is alone
Here at The Workers Shop, we carry a wide array of fabric options so you can be sure that the workwear you choose will work as well as you do.
Do You Carry Workwear Made From Other Natural Materials?
We proudly sell exceptionally high-quality garments made of bamboo. Many of our patrons initially were sceptical of bamboo clothing, but the bamboo fabric is almost miraculous. This fabric has fantastic qualities that include: 
The hypoallergenic fabric is safe for everyone including those with sensitive skin
Outstanding moisture-wicking abilities to keep you dry
Insulating to keep you cool in the summer and warm in the winter
Softer than high-quality cotton
Holds its shape and colour
Easy care
Biodegradable
Ecologically responsible and sustainable
Antibacterial to keep you odour free

How Can Fabric Made From Bamboo Eliminate Odour and Be Antibacterial?
The antibacterial qualities of bamboo fabric are responsible for its ability to eliminate odour, even in socks and underwear. Researchers in Japan identified an anti-bacterial substance within bamboo known as bamboo kun. An anti-fungal, organic, antibacterial agent, bamboo kun is present in bamboo and is largely responsible for the plant's resistance to pests and diseases. The plant's natural resistance explains why throughout Asia, bamboo has thrived for centuries without pesticides.
In addition to the antibacterial properties found in bamboo kun, the bamboo plant has a tight molecular structure. When combined, these properties create a sturdy material that protects the plant in its natural setting and eliminates bacteria.
The China Industrial Testing Centre conducted a study on bamboo fabric. In the study, scientists infected bamboo fabric with Staphylococcus Aureous. After the material was 100 per cent infected, it received a 24-hour period of incubating time. The belief was the bacteria would use this time to multiply their numbers. At the end of the incubation period, the researchers' samples showed 99.8% bacterial purge across 100 per cent of the infected bamboo fabric.
In contrast, cotton fabric received identical treatment, and at the end of the incubation time, the bacteria grew 550 times larger than the original amount placed on the fabric.
Similar tests carried out by independent researchers at controlled facilities found the same results. Additionally, the bamboo fabric maintained its antibacterial qualities through 50 wash cycles.
Because your satisfaction is our passion, The Workers Shop is pleased to offer our customers bamboo products. You can be sure that like all of our other merchandise, the bamboo items are of the highest quality.
If you know your company needs PPEs like HIGH-VIS or flame-retardant workwear and you are not sure where to begin your search, stop by The Workers Shop or have a look at our online store.
Our experienced staff can help you choose the perfect items to keep your workers safe and comfortable.