Understanding first aid gives you the advantage of helping those in need. At any moment, you or someone else could get ill or experience an injury. With basic first aid knowledge, you can prevent a minor mishap, so it does not get worse. In some cases, first aid can save a life.
What Does First Aid Mean?
First aid is defined as providing primary medical care to yourself or someone around you going through a sudden illness or injury. First aid can consist of initial support whilst waiting for a medical professional to arrive. In other instances, it is the care you give to someone with a minor injury, such as minor burns, insect bites, and cuts. The primary objective here is to preserve life.
You can have basic first aid training, which may involve using an automated external defibrillator (AED). However, providing first aid does not necessarily require you to have prior training or knowledge. You do not have to use an AED, for instance. Some readily available materials can quickly aid you or the person who may need first aid.
What's the Importance of First Aid?
First aid practices and knowledge of these practices are recognised worldwide. Providing first aid can make a lot of difference, and therefore its importance cannot be stressed enough.
1. Reassurance
Having a person with first aid competency on the scene can provide significant benefits. One is it offers some form of comfort and guarantee to the injured individual as well as their loved ones.
2. Effective Action and Management Plan
Being a first aider, especially a trained one, can help you decide which action is best to take, which is critical in managing emergencies. Depending on the emergency, there are a few steps that ensure the safety of the victim. The DRSABCD (commonly read as "doctor's ABCD) is an action plan designed to assist you in what to do in an emergency:
Danger: Make sure you, the victim/patient, and everyone else are in a safe area.
Response: Ask basic questions to the patient, such as their name and age. Squeeze their shoulders to see if they respond. If there is a response, take note of their injuries and monitor them whilst ensuring they remain comfortable.
Send for Help: If there is no response, call 000 for an ambulance.
Airway: One of the most crucial parts of providing first aid is to make sure the patient can breathe as normally as possible. If they are not, there may be a blockage. This is easy to determine with conscious patients but not exactly so with unconscious persons. Opening the airway in unconscious victims requires the head tilt/chin lift manoeuvre. It involves tilting the head backwards and applying pressure to the chin and forehead. The last step is to clear the airway with your fingers, effectively removing the blockage.
Breathing: Look at the patient's chest to see if it is rising and falling as normal while in a recovery position. Listen and feel for a pulse and monitor their breathing for a bit. If it's normal, treat for shock and manage their injuries. Otherwise, it is time for cardiopulmonary resuscitation or CPR.
CPR: Trained first aiders know how to do CPR, which is a basic exercise but can save lives. Apply 30 chest compressions and then two breaths. Keep doing this routine until the ambulance arrives or when the patient recovers.
Defibrillation: Use a defibrillator, an electronic device with audible and visual prompts. It's used to assess the heart rhythm and then provide the patient with the appropriate amount of shock.
Your job here is to make sure that the situation does not get worse. That's why it is vital to act quickly and correctly in times of emergencies.
3. Save Lives
The number one goal of first aid is life preservation. Every year, millions of people around the world get hurt and eventually die because of untimely assistance from medical professionals. Waiting for them to arrive can cause suffering and even death, which could have been prevented. This is where first aid makes a lot of difference. Performing basic first aid support on an injured individual can double their chances of survival.
Life-threatening situations like cardiac arrest can lead to oxygen deprivation to the brain. Did you know that you only have a three to four-minute window to stop the brain from expiring due to lack of oxygen? That's how fast you should act to save a life.
4. Pain Relief and Injury Recovery
Some injuries can quickly be treated using a simple solution. For example, you can use an ice pack for a sprain or bruise to help with pain and swelling. First aiders don't just relieve pain but also instil confidence so that the patient feels more secure, which is important in the recovery process.
First aid can help you save a life when an emergency occurs. That's why training is encouraged, so you find the assurance to step up and take proper action. As you may already know, responding as quickly as you can with first aid can prevent the worsening of injuries and permanent disabilities.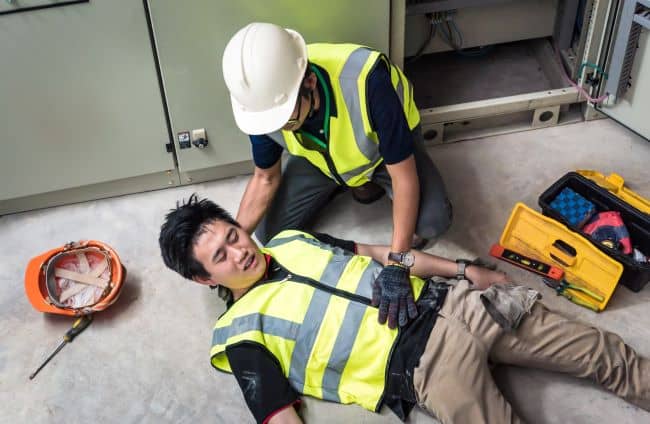 How to Get a First Aid Certification
As mentioned, you do not need to be first aid-trained to administer first aid to yourself or anyone. However, in some jobs, acquiring first aid certification is a necessity. For example, if you work with high-powered machinery, your employer may require you to have basic first aid knowledge. Trained personnel are also useful in education centres, shopping malls, public swimming facilities, fitness complexes, and transport.
The good news is that completing first aid training is easy and can even be fulfilled in your own home. An online first aid course is the first step toward learning the basics. However, you still have to go through hands-on training and evaluation to finally receive your first-aid certificate.
Learning CPR and other first-aid fundamentals are inexpensive and easily accessible anywhere in Australia. You can even have it online, request for a trainer to come to you, or have it with a group of friends.
After you have completed your first aid course, you will receive a Statement of Attainments, which can be:
Provide CPR (HLTAID009)
Provide Basic Emergency Life Support (HLTAID010)
Provide First Aid (HLTAID011)
Provide First Aid in an Education/Care Setting (HLTAID012)
As first aid training is a requirement in many Australian workplaces and boosts your credentials, you should certainly consider a first aid course. HLTAID011 is the most popular course in the country and is usually the minimum requirement in workplaces.
Please note that your first aid certificate does not last forever. You will need a refresher course to refresh your memory and reassess your understanding of what you have previously trained for. These courses are also useful if some changes apply to the older certification. For example, CPR methods have changed due to COVID. You may have to retrain yourself with the new standards.
Retraining depends on your certificate. If you have CPR training (HLTAID009), this only lasts for one year, whilst HLTAID010, HLTAID011, and HLTAID012 all expire after three years.
Some Helpful Resources
For a quick illustrated guide on DRSABCD, go to https://www.healthywa.wa.gov.au/Articles/A_E/DRSABCD-action-plan. In this guide and all other first aid instructions that you may find, you will encounter the term "recovery position." It's applied to an unconscious person with no life-threatening conditions and currently breathing normally. The recovery position helps clear and open the airway. It also helps ensure the patient does not choke in case they vomit. Watch this video from St John Ambulance to learn how you can get the patient to a recovery position.
If you're interested in a first aid course, there are plenty all around the country. Some run for just a few hours, while others last for a couple of days. Here are some of the best options:
If you need to perform CPR due to an emergency, watch this video. More CPR instructions can be found via Healthdirect Australia.
Your First Aid Kit
They say that prevention is better than cure. And it's true, which is why first aid training is crucial. At the same time, you should have valuable items ready within your reach. Emergency or first aid kits differ in contents, but the most important are:
CPR and first aid basic instructions
CPR Face shield or pocket resuscitation mask
Disposable gloves
Gauze
Hypoallergenic adhesive tapes/strips
Tweezers or forceps
Stainless scissors
Safety pins
Eye pads
Antiseptic liquid or wipes
Dressing or injury pads
Crepe bandages
This FastAid First Aid Kit contains all of the above, plus many other first aid kit essentials. It's perfect for electrical workers but also an excellent addition to your home. Everything is in a soft case but if you want a sturdier one, get the FAR2120. For motorists, your best option is the FANCM30, a complete first aid kit in a soft case available here. For personal use, this simplified first aid kit is for you.
For all first aid kits, please head to https://www.workersshop.com.au/safety/first-aid/.