Finding excellent workwear can be simple when you have reliable brands to fall back on. At The Workers Shop, we carry some of the best Australian-owned and operated workwear and safety gear brands. Everything from PPE and boots to high-visibility clothing and uniforms is available from high-quality brands like Hard Yakka and JB's Wear at The Workers Shop.
Check out our eight favourite Australian-owned workwear brands below.
Hard Yakka
Hard Yakka was founded by David K. Laidlaw in the 1930s. Since then, the brand has been recognised for its quality workwear, especially when it comes to toughness and durability. Yakka is an Aboriginal word meaning "work," translating to "Hard Work."
Hard Yakka takes pride in the quality of its products. They only utilise premium materials, which all go through a rigorous process to produce durable items for tradies.
Australian workers have ever-changing demands, particularly when it comes to their clothing and footwear. That's why Had Yakka has strived to develop a wide range of products to accommodate the requirements of our industrious tradies. Today, you can find a good number of options from Hard Yakka, such as PPE, safety gear, shirts, polos, vests, hi-vis clothing, and work boots.
We have Hard Yakka items that you will surely love, especially if durability is your top priority. Popular products include the Hard Yakka Legends Cargo Shorts and the Hard Yakka 4 in 1 Foundation Taped Jacket. Most are for men, but there are growing collections for women's workwear, too, so check them out here on The Workers Shop.

Steel Blue
About 20 or so years ago, Gary Johnson was unhappy about the safety boots on the market. It prompted him to reach out to his colleagues, which later led to the formation of Steel Blue. Johnson now serves as the company's CEO and is proud of the work boots available to hardworking Aussies.
Steel Blue has a line of work boots that offer reduced shock for the wearers, which help protect their overall body health. The brand seeks ways to advance its safety standards and improve its products. Whether it is the development of the Trisole® Comfort Technology or creating a composite toe cap that is more airport friendly than steel toe caps, Steel Blue is the first in the industry. And Steel Blue is the first and only workwear boot to receive an endorsement from the Australian Physiotherapy Association (APA).
Steel Blue is much more than a footwear brand; it is a lifestyle choice for Australian workers. At The Workers Shop, you can find a wide selection of boots and shoes for all work conditions. There are safety boots that zip up for easy access, like the Steel Blue Argyle Nitrile Zip Safety Boot, and boots with bump caps, composite toes, and more. And the Steel Blue Chemical Resistant Warragul is a bold new option in the area of safety boots.

KingGee
Back in 1926, Robert Adcock founded KingGee in Sydney. From humble origins, this workwear brand has become a staple of Australian workers. With almost 100 years of expertise in the workwear industry, they guarantee comfort, functionality, and durability in all our products. And this Australian brand knows how to innovate fabrics and materials to suit the Australian climate.
KingGee has been at the forefront of technologies associated with garment production. Their Red Label Drill, which was introduced in the 1960s, has become the standard for Australian drill materials. The company is also one of the first to utilise computers in pattern cutting.
But perhaps what makes KingGee stand out from the crowd is its promise of longevity. Its products are guaranteed to last for years. That's why the slogan, "If They Were Any Tougher, They'd Rust", became synonymous with the brand.
Here at The Workers Shop, we have a variety of KingGee products, ranging from side-zipped boots, such as the popular 6-inch Phoenix Safety Boot and the Bennu Rigger Zip Safety Boot. Aside from footwear, we also carry KingGee cargo shorts, cargo pants, and hi-vis workwear. KingGee is a brand that emphasises being the absolute best, proven by the range of the brand's products available on our website.
JB's Wear
Reliability is a core value at JB's Wear. This Australian brand has been a proud family-run business for over 20 years. They have created an incredible catalogue of workwear that includes items designed to meet the needs of corporate workers, the hospitality industry, and more. JB's Wear is more than just a clothing brand; it's also a provider of industry-leading workwear, allowing businesses and tradies to order in bulk. All garments are guaranteed to meet Australian standards.
The mission of JB's Wear has not changed as it has grown. As their product list has expanded to include hundreds of excellent styles and opened more warehouses around Australia to fill the demand, JB's Wear has always focused on quality.
Here at The Workers Shop, we are currently expanding the range of JB's Wear, so you and your team can have more choices in the future. Whether you are outfitting the whole office or family, you will find comfortable yet stylish workwear that everyone will love to wear. Examples are the JB's Wear Piping Polo for both men and women that you can find here.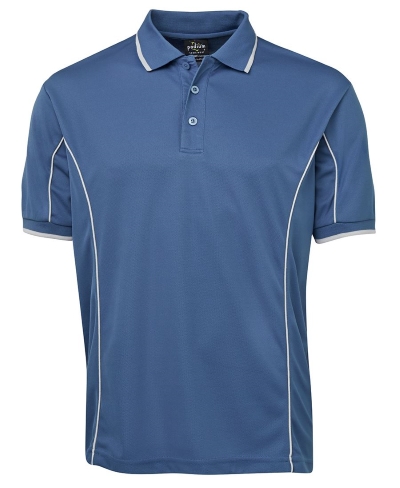 Syzmik
Syzmik fits into the world of fashion thanks to its links to the global fashion house, Fashion Biz. After several years of establishing itself as a quality manufacturer of workwear in Australia, Syzmik has gained a loyal base of customers.
Every piece of clothing from Syzmik undergoes strict testing. Everything from durability to comfort to safety compliance is held to high standards. Examples of innovative manufacturing at Syzmik include more breathable fabrics, reduced heat stress, and durable cotton weave construction.
Syzmik specialises in a wide range of workwear items that make dressing for corporate, hospitality, and other jobs simple and stress-free. At The Workers Shop, you can find an entire collection of polos, button-down shirts, professional pants, and more for both men and women. We also have Syzmik hi-vis jackets, which are the most popular.
Whether you work in the construction or mining industry, you will need durable high-visibility workwear that will not let you down. For this requirement, we suggest you look into Syzmik 2-in-1 Stretch Taped Jacket, Syzmik Antarctic Softshell Taped Jacket, and other similar products.
Bisley
The reimagining of fabrics is a common goal at Bisley. This workwear brand based in Australia has had almost 60 years to perfect its manufacturing processes. As they are always looking to the future, Bisley is known as a brand that creates products for the next generation of Australian workers.
Some of the latest innovations include products with anti-bacterial treated fabric, sun protection, static control, and flame resistance. But beyond innovating for the future of work, Bisley is thinking about the future of the planet. Bisley is an Australian workwear brand that cares about sustainability and is putting that into action.
At The Workers Shop, you have a comprehensive collection of Bisley workwear items to choose from. Our best sellers include hi-vis Bisley items, which are practical for those in the construction industry, waste collection, and traffic control. The Bisley Bomber Taped Jacket is especially sought out by miners and builders.
Meanwhile, if you are searching for a garment suitable for the office setting, Bisley will not disappoint. Check out the Bisley Chambray Short Sleeve Shirt or if you're the long-sleeved type, click here to view the option.
FXD Workwear
With a name that means Function by Design, FXD Workwear has the goal of meeting the needs of modern workers wherever their work might lead them. FXD products are designed with advanced features and innovative materials. You can expect exceptional performance combined with optimum protection when wearing an FXD Workwear shirt, pants, or other garments.
Launched in Australia by Globe International, FXD products boast a more attractive and stylish look than the competition. All are carefully designed and aimed at exceeding the current industry standards. FXD work pants are among their most popular products. They are lauded for their strong resistance to shrinking, which is a problem in other brands. The technical yarn content in the pants is manmade, and therefore, the products are advised against boiling.
The FXD Workwear products at The Workers Shop marry functionality with professional design. Check out the utility of the FXD Cargo Board Short or the FXD Stretch Cargo Cuff Pants. If your job calls for you to stay safe and visible, consider buying the FXD Taped Stretch Cuffed Pant.

Oliver Footwear
When James Oliver came to Australia in the 1800s, he expected to find rich fields of minerals. Instead, he established what would eventually become one of Australia's best makers of workwear and safety boots. Since 1887, Oliver Footwear has never wavered from its dedication to creating fine-quality footwear for hardworking Aussies.
Oliver Footwear has expanded since its inception, from focusing on boots for miners and farmers to modern boots for all kinds of workers. All footwear under this brand is manufactured based on the Australian Standard AS/NZS 2210.3. Some footwear comes with new technologies, such as dual-density polyurethane soles like this Side Slip-On and the Lace Up Safety Boot.
We have more options for you here at The Workers Shop. We recommend you view our excellent range of Oliver Footwear at The Workers Shop, including the Oliver Composite Zip Side Boot and the Oliver High Leg Zip Safety Boot.
No matter which Australian workwear brand you trust or wish to try, you can always find reputable names here at The Workers Shop.