If you work in an industry that poses a high risk to your physical safety, you most likely require high visibility clothing. The type of hi-vis safety apparel you need will depend on a few factors, including the risks you'll likely face, as well as the job site's environmental conditions.
Shopping for hi-vis safety clothing may seem straightforward, but it can be a bit complicated. With so many options and products out there, how do you know which type you need? Some people pick the one that fits their budget or feels comfortable. However, there are several other considerations to keep in mind to make the right decision.
If you're among those who may be clueless in high visibility clothing, such as vests, jackets, pants, and overalls, this guide is for you. We will explore some of the benefits of high visibility clothing and what suits your needs best.
What is High-Visibility Safety Clothing?
High-visibility safety workwear is exactly what it sounds like. It's any piece of clothing that makes you more visible to others whether on a building site, driving or walking across the road. This can be in jackets, vests, shirts, and pants with bright colours or reflective features.
Wearing high-visibility clothing increases your chances of getting seen by other people, which plays a vital role in everyone's safety. The following should be able to spot you, whether you're working, walking, or in a stationary position:
Drivers, especially those who operate trucks and other heavy vehicles
Workers on busy roads
Construction workers
Heavy industry workers
Railway and roadway staff
Survey crews
Safety employees, such as security guards working at night
Emergency response personnel
Police officers
Electric and utility workers
Fire department personnel
Airport and ground crews
Employees who retrieve shopping carts from parking spaces
Factory or warehouse personnel
Accident site investigators
The list goes on.
The groups of people mentioned above also require high-visibility clothing. If you work in the same industry as them, you need to wear appropriate safety apparel.
High-visibility clothing is often made of tough, waterproof material, such as vinyl and polyester. The high visibility characteristic of the apparel stems from its colours, which are usually in choices of neon colours like green, yellow, and orange. These neon or fluorescent shades are unnaturally bright, allowing them to effortlessly "shine" amidst a dark background or poor lighting conditions. The stark contrast between the clothing and the surroundings makes it easy to spot the wearer, which is often crucial in many situations.
Some clothing options come with reflective strips that increase the wearer's visibility, particularly in dim light conditions. This is critical for many workers in high-risk environments. For example, working on a construction site requires high-vis clothing, especially for the other workers. It helps the heavy equipment operators easily see the people present in the area, potentially saving them from horrific accidents.
High Vis Clothing for Drivers
Pedestrians and busy road workers are not the only ones who will benefit from wearing high visibility clothing. Yes, it does make sense that those on the road should be seen by drivers, especially in low light conditions. However, drivers also require the same protection whilst they are on the road, which means other people should be able to see them, as well.
Drivers wear safety apparel to make their presence known at night. It's also convenient during bad weather conditions, such as rain or snowstorms, which helps keep everyone safer on the road. Operators of lorries, utes and heavy vehicles are typically exposed to motor vehicle traffic. These drivers spend a lot of time in their vehicles, but that does not mean they just stay in the truck. When they need to do something else outside the vehicle, such as check a construction situation, safety clothing can save them from potential accidents. That's why high-vis garment for drivers is more than necessary.
Why Do I Need High-Visibility Safety Workwear?
There are many reasons why wearing high-visibility clothing is essential. Visibility at night and during bad weather conditions are two of the primary purposes of these safety items. But that's not all. If you're someone who spends lots of time walking around town, especially after work, then wearing high-visibility clothes can make it easier for other people, including drivers, to see you. This results in fewer accidents on busy roads, thanks to the increased visibility.
Let's face it. Safety, whether on the road or at a job site, is underrated. A lot of people fail to recognise the risks until an unfortunate event occurs. High visibility safety workwear is required in workplaces with increased risk due to poor visibility, low light, and moving vehicles and people.
Hi-vis items are helpful as drivers of vehicles and machine operators work. That's because the human eye is trained to respond better and quicker when it can see bright objects in contrast to the surroundings. This is beneficial in work situations where the operators and drivers may not be able to control other people or their actions.
High visibility clothing is an essential piece of workwear for nighttime shifts. But it's also used during the daytime, especially when there are moving vehicles and individuals.
In Australia, it is not a legal requirement to ensure workers wear appropriate high-visibility clothing. However, it is every employer's responsibility to keep workers safe while in the vicinity. That includes requiring employees to wear protective clothing, such as high-vis apparel.
Here's why people wear high-vis clothing, which does not have anything to do with safety. The clothing items help in distinguishing those who work on a certain site. Identification is often crucial in specific workplaces, especially those with potentially hazardous environments. It's faster to identify the workers and visitors, which can aid in quickly removing unauthorised persons in the area.
Where Can I Find High Visibility Clothes?
Before you jump to buy hi-vis clothing, you should first know what to look for in these safety items. Make sure you choose a good quality option, which has the following characteristics:
Durable: You'll most likely wear your hi-vis clothing every day at work, which is why it makes good sense to look for a durable item. Preferably, it should be double stitched and can last you at least six months. It should not fade or rip, a common complaint in low-quality products.
Washable: While you should never use bleach or harsh detergents on the material, especially the reflective stripes of the garment, it should be washable in the washer.
Reflectivity: High-vis clothes have retroreflective panels, which should not only be efficient at night but during the daytime, as well. These panels or stripes should also have 360-degree visibility. For example, if you have a reflective vest and you lay it on a flat surface, you should still see about 40% of the reflective panels on either side.
Comfortable: As with anything you wear, your hi-vis clothing should be comfortable. Some items can come in one size only, but there should be straps for adjusting the garment.
Extras: Pockets are an excellent addition to the clothing. Most workers find having pockets handy when they need to store away items quickly.
From a Reputable Source: Buy from a known shop with a good reputation. Read what customers are saying, especially about the quality of the products and return service if ever you need to return a product for any reason.
When searching for quality hi-vis clothing, you've come to the right place. Here at Workers Shop, we have plenty of options, from pants to jackets to hoodies and jumpers.
The following section will help you determine what type of hi-vis workwear you need.
Types of High Visibility Clothing: Jackets and Vests
One of the most popular forms of high vis clothing is a jacket. It covers more skin surface area while providing the same benefits as other hi-vis clothing. Some options have built-in pockets so that you can store your mobile phone or other small items. A vest is a good alternative if you are more comfortable with less coverage, especially on the arms.
Shirts & Pants
High visibility t-shirts are comfortable while offering a sense of safety when at work. You can tuck the shirt into your trousers, pants, or shorts, just like normal. Pair the shirt with a good pair of high-vis pants with reflective tape for increased visibility.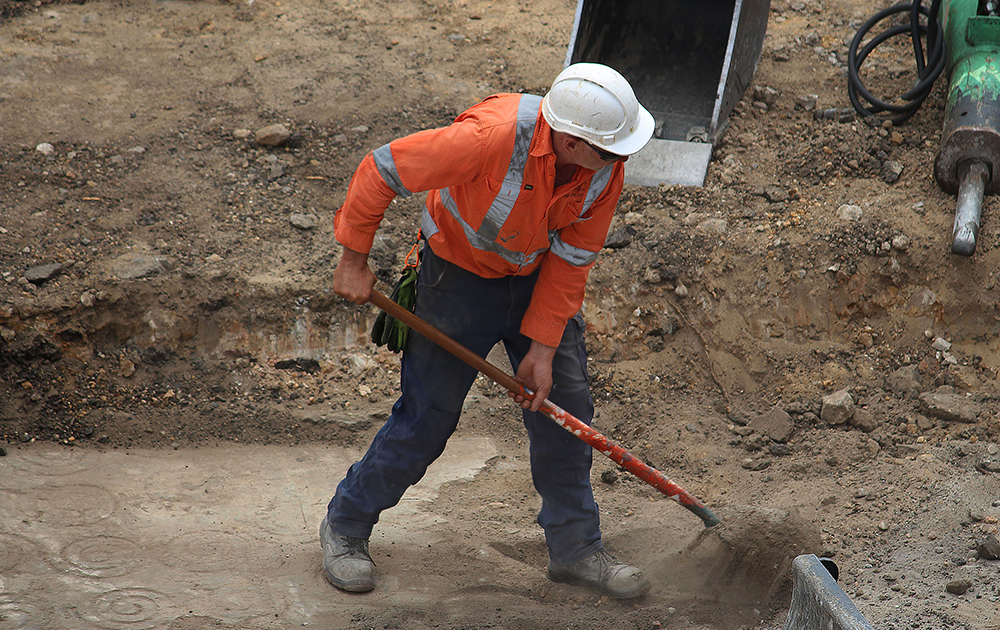 Overview of High Visibility Standards for Australians
In Australia, several high visibility standards must be met to help employees stay safe when on the job, including:
AS/NZS 4602.1:2011 for hi-vis garments for high-risk applications, specifically for employees working around moving machinery and vehicles. To comply, all fabrics used should meet AS/NZS 1906.4:2010 requirements for safety garments.
AS/NZS 1906.4:2010, similar to the above and specifies the approved colour and provides standards for the clothing's upper torso. This standard dictates the size of the logos and where to place them to avoid compromising the wearer's safety. Silver retroreflective tapes should meet this standard, particularly their colourimetric and photometric properties for night use. Fluorescent materials should be used outdoors during the daytime. The same standard classifies the materials based on:
Class D for daytime use only
Class N for nighttime use only
Class D/N for both daytime and nighttime
Class F with daytime fluorescence for outdoor use only
Class NF with natural fibres without fluorescent colour retaining abilities
Class R with retroreflective materials
Class RF with both retroreflective and fluorescent materials
There are additional classifications, including Class F(W) for wet compliance. Other garments are labelled Class NF(W), meaning they do not have fluorescent capabilities but can offer water resistance.
What to Look for in High-Visibility Safety Apparel
Hi-Visibility safety garments come in various styles and sizes. The most popular choice is a jacket or vest, which you can wear over long-sleeved shirts to provide increased protection for your arms.
Always look for official Australian Standards certification on any high visibility clothing products before buying them (often included somewhere in the product description). This means that an independent testing house approved the item against a certain set of criteria. The tests usually focus on abrasion, flammability, resistance to liquid chemicals as well as wash/wearability.
What are the Different Classes of Safety Apparel?
When looking at different classes of safety apparel, you'll first need to think about your activity or work environment while wearing it. Here are the three classes and how they are used:
Class I: High Visibility Garments are intended for use by people working on public roads and places where traffic can pass within proximity (maximum visibility distance is less than 100m).
Class II: Hi-Vis clothing is designed specifically for industrial workplaces
Class III: Also for industrial workers, Class III offers a more powerful level of protection against chemicals and extreme temperatures when worn over long periods.

How Much Do Hi-Vis Items Cost?
The pricing always depends on several factors, including:
The type of clothing
Brand name
Material used
Additional benefits
You will likely spend from $15 for singlets to $120 or more for jackets. While it is good to save money, always invest in your safety. Don't pick a low-quality option just because you can save $10. Your life, as well as everyone's safety, is worth more than that.
How to Choose the Right Size
As a general rule of thumb, it's recommended that you buy one size larger than your regular clothing since they're designed to be worn over long-sleeved shirts and jackets for maximum protection.
How Does Custom Branding Affect Hi-Vis?
If you're looking for a way to promote your company brand or logo, custom branding is the perfect solution. You can have your company logo printed on the front or back of different high visibility clothing items like jackets and vests to help promote your brand name for a relatively low price. You could even offer these as gifts to employees who work within safety-critical roles like construction, so they're always visible while working at height, for instance.
But remember that you still need to remain compliant. Logos or any text printed on the hi-vis clothing should not be too large that they dominate the whole garment. You're required to keep the logos up to 10cm x 10cm in size. An exception, though, is if the logo is at the back of the shirt, for example. The company logo can be bigger than the said measurement, but the shirt should be completely high-vis.
Your choice of high visibility clothing is critical. If you're in an industry where lack of visibility can lead to injuries or accidents, you should invest in a quality high-vis item. It can save your life. Stay visible, stay safe with the right high-vis clothing from Workers Shop.