Find The Right Work Boots
If you need to put on a pair of work boots before you head to work, you should choose the best option out there. Being on your feet all day means that you need the right pair of shoes. You don't want to go home without feeling like your feet are about to fall off.
Your choice will depend on several factors, including whether or not you need additional protection. Perhaps you simply want a pair of work boots that will give you long-lasting comfort. At a glance, you could easily think that work boots are all the same. Depending on your what you do for a job, you may have to find boots that are tougher and more durable than standard options.
How to Find the Right Work Boots?
Before you purchase a new pair, this guide will help you determine how to pick the right choice for you. Work boots should be designed with safety in mind. The Occupational Health and Safety Australia (OHSA) and the Safe Work Australia (SWA) require employers to make sure the employees wear protective clothing and footwear, particularly if the job is risky.

Different governing bodies have a say on the external composition of the work boot. However, there are no specific rules concerning the inside structure. You must select the right work boots, so your feet remain safe and comfortable. Safety does not only mean protection against outside dangers but also for the health of the feet. The wrong work boots can put extra strain on your joints and bones, which can lead to painful conditions, including plantar fasciitis, knee problems, and shin splints among others.
As you shop around, you will find that there are numerous options available. You will have several questions in your head that you want to be answered. Thankfully, we have got you covered. Here are some tips that will help you wear the most comfortable and suitable boots for work:
How Do You Know if It is the Right Fit?
Comfortable boots feel good because they are of the right size. How the boot fits can affect how you feel while wearing your footwear. If it does not fit correctly, it can also have an impact on your job performance.
Therefore, you should neither rush nor skip the fitting process. Try on as many pairs as you can before you make a purchase. Even though you think that a pair looks good, you should make sure it is not too short or narrow; otherwise, you will suffer from crowding your feet. Meanwhile, choosing boots that are too big will not let you move comfortably. Often, they cause hotspots that can eventually result in blisters.
Land the best work boots with these checks:
Test the length of the footwear by sliding your foot forward. Your toes should touch the boot's front. Then, bend your knee forward. You will know that the length is right if your index finger can fit between the back of the shoe and your heel. Make sure that you test both boots.
The boots should flex at the ball of each foot. Never choose a boot that bends at your arch because it means it does not offer adequate support.
The laces should help keep your feet in place without you feeling uncomfortably tight.
When it is hot, your feet will swell at the end of the day. You may want to try on boots after you are done with work so you can check how big your feet get after a long day at work. Also, make sure that you have the right socks ready.
Bamboo textile socks are extra thick and have anti-bacterial properties. They are perfect for work boots, especially since you will wear them for a long time.
Which Type of Work Boot Should You Go for?
Plenty of work boot types are available, from steel toe to zipped sides to elastic among others. There are different types because they are mostly created for specific jobs. For instance, steel cap boots are for workers who need protection for their toes and the upper part of their feet.
Meanwhile, if you often face harsh weather conditions, you should find insulated footwear so your feet will remain warm and dry. Some boots are made for those who work near electrical hazards. Your job will determine the type of work boot to choose from.
Zip sided boots are popular amongst military and law enforcement personnel. This type of boot resembles an ordinary boot except for its zipper on the side of the foot. Elastic-sided boots are often known as an Australian work boot. They are typically designed with a leather upper, which is bound using elastic sides.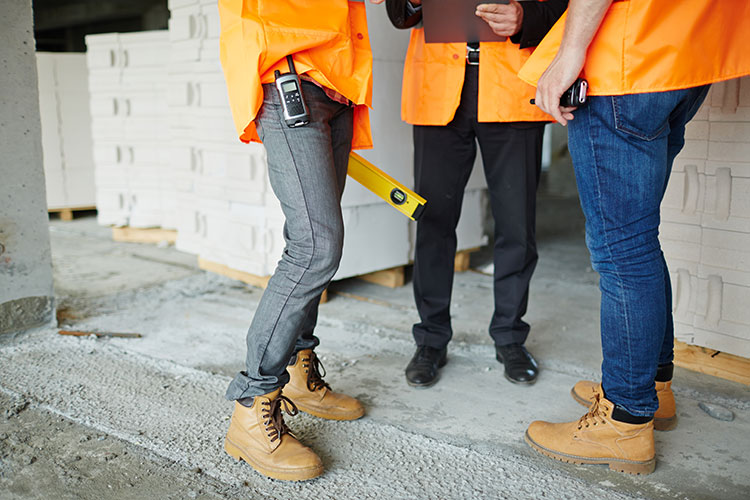 What Features Should You Look for?
One of the most important traits that you should check is whether or not the outsoles are cushioned. On average, people take about 20 million steps throughout their lifetime. When at work, you want to make sure that you are comfortable taking each step. The best way to achieve such a goal is to choose work boots that offer ample cushion between your feet and the ground.

Cushioned soles are extremely important. Think of them as shock absorbers for your feet. They reduce the impact that your feet would feel, which lowers the risk of injuries.
Here are some of the top options to consider:
Oliver Safety High Jogger: These boots are made with comfort and function in mind. They have HEELguard, which promotes stability while offering protection against impact. These boots also have patented heel and ball guards. The Safety High Jogger from Oliver also comes with TPU outsole and shock-absorbing qualities.
Blundstone Safety Slip-On Boot: These boots meet the Standard AS/NZS 2210.3.2009. The innersoles are designed to be extremely comfortable and with a polyurethane midsole.
Mongrel Safety Lace-Up Boot: Having a padded collar and tongue can greatly reduce fatigue. You can walk or stand for hours without any knee, foot, or even back pain.
Aside from cushioning, you should also make sure the boots have reliable arch support. The daily impact that your feet go through is equivalent to the weight of a truck fully loaded with cement. This is why you should not discount the importance of arch support.
There are different types of foot ailments that you could suffer from, such as tendinitis, Metatarsalgia, and plantar fasciitis. One thing they have in common is that they hurt. Avoid these problems with proper arch support, which is crucial for many reasons. For one, it relieves pressure on your ligaments, particularly those that are connected to your heels and toes.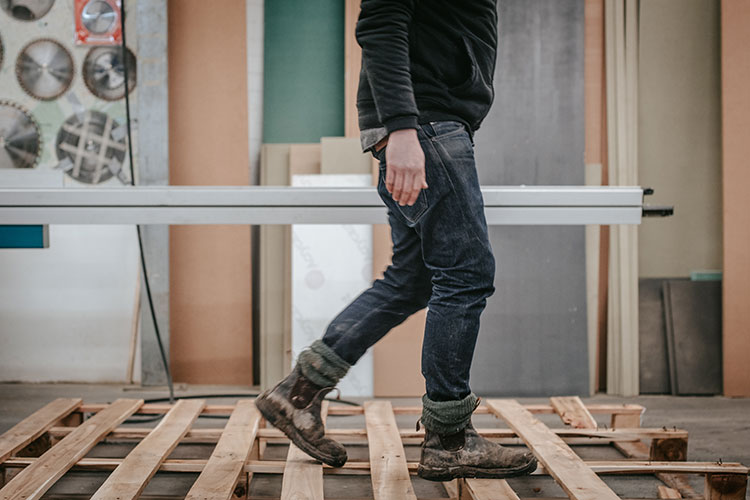 Key Features In Work Boots
Cushion and arch support are just two of the features to consider. You need to select the right work boots with the top features, so you achieve maximum comfort. Other characteristics to look at include:
Height: The height of the boots will depend on your work. If you are a linesman, you may want to go for taller boots. The same applies to those who work in the deep woods. On the other hand, shorter boots are much lighter and cooler, which is why they are preferred for all-around use.
Material: Boots can be made of different materials, such as leather, nylon, rubber, and a combination of these things. For the soles, they can be made of rubber, TPU, or EVA. Most of the time, it boils down to your preferences. However, it helps if you consider your occupation before buying. For instance, rubber work boot is good for those who work in slippery areas while nylon is ideal for those who require lightweight shoes.
Water Resistance: You may want to consider this feature if you often work in wet areas. The last thing you want to worry about is your feet getting soaked. It is not only uncomfortable but can also lead to unpleasant food odours. If so, you should look for a work boot that comes with waterproof membranes, as well as those with breathable materials. You want to keep your feet protected against water, but you also do not want to suffocate them all day.
Heaviness: The weight of your boots can have a huge impact on your movement and work performance. You may like a strong pair of shoes but it does not mean they should be heavy. Years ago, heavy boots were thought to provide the best support. However, we now know there are better materials that help keep the boots lightweight while still providing enough support overall.
Safety Toes: Some job sites necessitate steel-capped boots. They do add a little bit more weight and may not be suitable for use during the winter. Composite protective toes may be a better option if you do not want the added weight and cold.
Many work boots come with insulation, which means they are ideal for outdoor use. If you will stay indoors, such as in the office, with minimal risks, you can stick to a corporate or even soft toe work boots.
After considering all the factors above, you surely want a pair of work boots that go well with your style. How you look is as important as your comfort and your shoes' durability. The Workers Shop has an extensive selection of work boots designed for hardworking professionals like you. Check out the collection today.