When it comes to adding logos to professional apparel and clothing, two of the main options today are embroidery and digital printing. Both have their uses, and one may be more beneficial for your company uniform. The choice will depend on your specific needs.
Embroidery and digital printing are two types of procedures used for customising clothing design. Before you choose from these options, it is better that you know what they entail, the benefits, cost, and their applications. In reality, they share similar concepts where you imprint your company's name on the shirt or apparel. However, one of them may be more suitable for your purpose.
First, let us learn what these two are about.
What is Embroidery?
Embroidery is essentially defined as a method of adorning fabric with the use of a thread and needle. It is often utilised for personalising polo shirts, jackets, hats, and even bags. Embroidery is one of the most popular options when it comes to creating a logo design. It results in an elegant finished product that generates a 3D appearance on the material.
For most people, embroidered logos are more professional and classier than other methods, even beating more modern techniques, such as digital printing.
With embroidery, your company's logo will be reproduced by threading directly into the material or fabric. The process where the actual stitching takes place can be performed manually. However, high demand and quick deadlines make automatic stitching using machines more efficient.
Computerised embroidery machines are common now. For bulk orders, you can have the finished products in next to no time, thanks to the power of commercial embroidery machines. These machines have at least 12 sewing heads with about 15 threads needed for every head. Therefore, it means that about 12 items can be sewed automatically and simultaneously.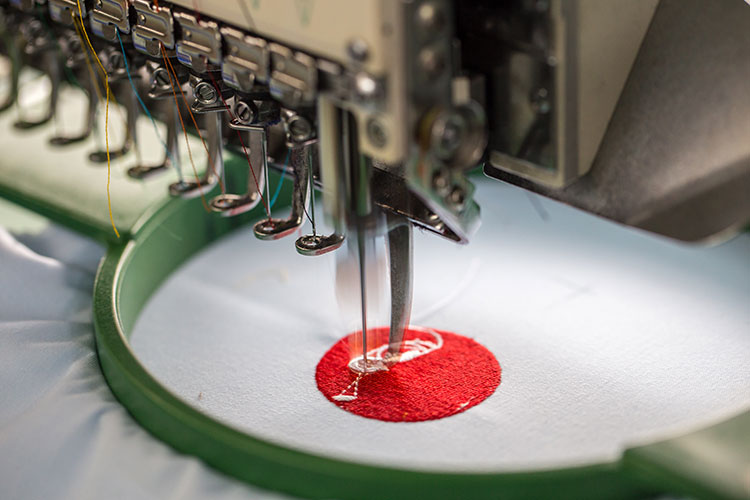 Embroidery involves a primary step where you create the logo file and then upload it into the embroidery machine. Once the machine has the instructions, it will understand how to stitch the logo or image into the garment.
What is Digital Printing?
Digital printing is the preferred method of many, especially when used for advertising. It can create all type of products, including t-shirts, totes and other marketing merchandise, in quick succession. Meaning you can get your order faster than other methods. This type of printing can handle even complicated designs with finesse and the results are usually better than embroidery.
Printing, which can also be screen printing, has the logo reproduced using inks that are squeezed directly onto the uniform or apparel. If it is screen printing, there is a separate mesh for every colour in the logo. This way, the designs will look best even with colourful logos.
The process is automated using a printer. However, the garments are loaded and unloaded individually. Often, once the printer is done with its work, the garment will be sent to a tunnel dryer where the ink will be set or cured.
Advantages and Disadvantages of Embroidery
Embroidery is without a doubt much classier than digital printing. The finished logo arguably looks more elegant, particularly when applied on the left part of the chest. However, the embroidery can be positioned everywhere else.
For many companies, embroidery is the better option because the thread can give it a 3D look. Additionally, the thread can be coated, giving it a sheen that enhances the colours and the overall design.
Other benefits include:
Embroidered logos are longer lasting and durable.
You can use this technique even when you have a small logo or any design.
Since the results last for a long time, it is a cost-effective method.
The finished product will not fade even as you regularly wash it.
If you have a thick garment, you will not have a problem working with this technique.
While the last point above may be beneficial, it can make it difficult for those with thinner shirts or materials. Often, embroidery works better when you use a high-quality garment; otherwise, the fabric will easily be pulled when attempting the method.
Typically, embroidery works great when you work with logos or those that are smaller. It is why companies choose this method over the others. However, embroidering huge logos can look unappealing and messy unless they are simple yet well-designed.
Advantages and Disadvantages of Digital Printing
This technique is more affordable than most other options for embedding your company's logo or any design on a shirt. You can quickly develop many printed shirts in a short amount of time. Printing, including screen printing, is more preferred when it comes to larger designs. This method, unlike embroidery, can handle any look, style, and even any colour variety you can imagine.
Compared to the other option above, digital printing offers the following advantages:
It is much easier and quicker to accomplish.
Digital printing is mainly automated, especially once you already have the design you like to have on a shirt or any surface.
It is a great way to promote your brand or product, which you can have imprinted on a shirt. You can mass-produce these shirts without costing you more money than embroidery.
You can use this method even if you have a thin material to work on.
If you have a hand-drawn design or any complicated image with lots of colours, you will never have a problem working with it with digital printing.
More often than not, digital printing is used for t-shirt graphics. Therefore, some professionals get disappointed when they see the final product. It is because they lack the sophistication that embroidery can offer. Printed designs can look painted. Some may even appear as if they came out of an inkjet printer with the image put straight onto the shirt.
Perhaps the biggest downside with digital printing is that the designs are only one-dimensional. You cannot expect the printed material to have the same 3D effect as with embroidery. Nevertheless, you can count on the image to be quite striking. You can play in numerous colours and designs that you want.
If you have a huge logo or print to put on a shirt, it will almost be impossible to carry it out using embroidery. It is why this technique is best for your campaign.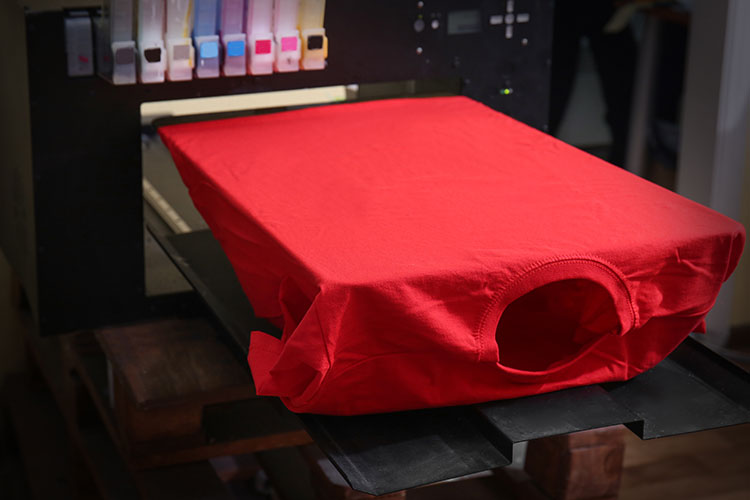 Which Technique is Better for You?
Aside from the benefits and the downsides mentioned above, you should also consider other factors namely the cost and application:
Which method is cheaper? If you will buy in bulk, digital printing is the better option. You can get a quicker turnaround time with a more affordable process. You will surely end up paying less even if you need hundreds of garments that should have a complex logo or image.On the other hand, you can opt for embroidered polos and corporate attire if you will only work on a small logo. For instance, you simply require a pocket-sized logo for your suits or polo shirts. Also, if you need less than a hundred garments, embroidery is the more recommended option for you.Even though embroidery is more expensive, you can gain more out of it in the long run. This technique has been proven to have longer-lasting results. When you keep washing digitally printed shirts, the images will eventually fade.

Additionally, you will usually only have to pay a flat fee for an embroidered logo. The service will not be dependent on the number of colours you use. Meanwhile, if you go for digital printing, the cost is typically colour-dependent.

Also, if you were to opt for screen printing, a new mesh screen is often required for every colour in the image. You can compare it with an undercoat where the base print is applied. Therefore, if you have a black print on a white shirt, the process will need two screens.

An exception, of course, is when you have a huge logo that will take more than the size of a pocket. In this case, it will take thousands and thousands of stitches, which can cost you dearly. For bigger logos and designs, digital printing is the way to go.

What method suits your application? The answer to this relies on the garment or surface that you would like to decorate. Embroidery is best for the following:

Business shirts
Polo shirts
Caps and hats
Outerwear
Staff uniforms
Jackets

Meanwhile, digital printing is a much better choice for:

Tote bags
Thin garments
Shirts that require back and front images
Any apparel or item for promotional events
Hoodies
Sweatshirts

In short, lightweight garments, including t-shirts will benefit more from digital printing. Embroidery often has that heavy feel for thin shirts. There is also that noticeable "puckering" on the logo since the stitches can create tension. With digital printing, you can have a softer handle, which is why it is the better choice for large designs.
Whatever type of material, decoration, and branding you need, you surely expect excellent results. Choose a company with years of industry experience in working with embroidery, screen, and digital printing. This way, you can come up with the best outcome that will represent your business as a professional entity with your logo or image.