Workplace injuries are unfortuantely common in Australia. Although on a decline since 2008, injuries and fatalities still happen, leading to over 120,000 serious claims from 2019-2020. According to Edway Training, a white card and first aid training provider in Australia, lifting or handling objects is one of the top reasons for work-related injuries.
While the statistics above do not solely focus on foot injuries, it is still significant to have safety precautions to protect the workers' feet. Something can fall onto the feet, roll through, or cut through them. That's where safety boots like composite toe boots come into play.
What are Composite Toe Work Boots?
If you're familiar with steel toe work boots, you'll find composite toe work boots easy to understand. These two types of safety footwear have similarities, except composite toe boots do not have the extra weight and electric conductivity that the other type is known for. If you've worn steel toes before but complained about the discomfort, you will not have the same issue with composite toe boots.
A composite toe is a safety boot with a protective toe box. However, this toe box is not comprised of metal. Its shanks and other parts are made of composite materials, hence the name. Workers who require additional protection for their toes should wear safety footwear, such as composite toe boots. Here are some reasons why:
The shoes do not get easily dented on impact from heavy objects.
The toe caps are softer than those made of steel or alloy.
Because they're made of composite materials, the boots don't set off metal detectors.
Composite toes are also lauded for being lightweight. They are more comfortable to wear even during cold winters or hot summers. Because they are not electricity conductors, you can stay safe in workplaces with electrical hazards. Therefore, if you work in nuclear plants, airports, courts, or other similar work environments, you will benefit from wearing composite toe boots.
Differences between Composite Toe and Steel Cap Boots
Before you hurriedly buy a pair of composite toe boots, we suggest that you recognise other options you have.
Steel cap boots, as the name suggests, are made of steel. This rugged, durable material ensures that workers in risky environments can rely on their boots for their feet's safety. Many steel cap toe boots are puncture-resistant, slip-resistant, waterproof, and dust-proof. Unfortunately, steel makes the boots heavy, making it impossible for certain tasks to be carried out without extra effort. For this reason, a composite toe is a better option. They're about 30% lighter than steel toes and are more comfortable to wear no matter the temperatures.
Now, a more important question: Are composite toe boots as safe as steel caps? Whilst it is true that steel caps set foot protection standards pretty high, thanks to the intensive pressure tests they are subjected to, composite toe boots also offer the same degree of safety. Of course, composites are not as strong as steel (at least none yet), but they also undergo rigorous impact and pressure tests. As long as you pick a reputable brand, your feet will get the protection they require without the heaviness and discomfort from steel caps.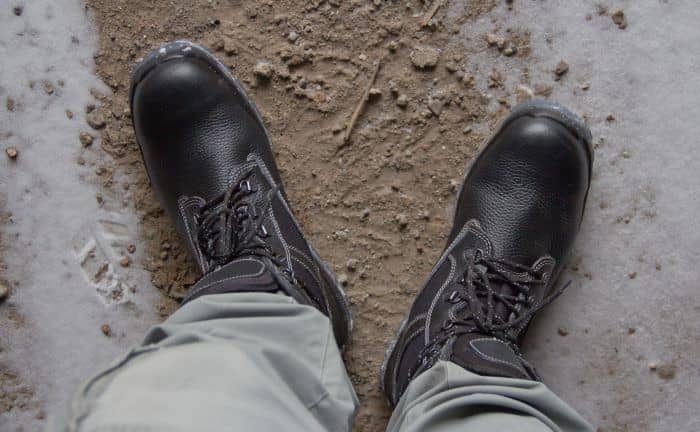 Composite Toe Boot Materials
Composite toe caps are made from various materials, differing from one supplier to the next. However, the most commonly used materials are:
Fibreglass
Carbon fibre
Kevlar (aramid fibre)
Graphite fibre
Composite toe caps can also be made from plastics moulded into another material much stronger than the original material on its own.
Generally, composite toe work boots have two classifications:
Thermoplastic: A thermoplastic toe cap is made from polycarbonate (PC) or polybutylene terephthalate (PBT) material often utilised in vehicle bumpers. Thermoplastics are known for their high-impact strength. Therefore, when injected into the toe cap, the object becomes stronger and more durable than ever.
Composite: There are different ways to construct non-steel toe caps, including filling fibreglass sheets with resin. They are then layered and pressed together to thin them out before creating the toe cap shape.
Thermoplastics and composites may not be as strong as steel, but they are also used in heavy-duty applications like space equipment, bulletproof vests, yachts, and car exteriors.
Composites are rigid because carbon is the base material, which, by the way, is the same material that diamonds are made out of.
Choosing the Right Work Boots for You
Are composite toe boots the right pair to wear at work? Perhaps steel toe caps will work better, or should you look at alternatives like alloy toes? To determine the best choice, here are some questions to ask before you buy your work safety boots:
Do you pass through a metal detector when at work? If so, you need to stay away from steel toes.
Does your job include working with heavy machinery? Do you regularly carry or lift weighty objects that, when dropped accidentally, might cause significant damage to your feet? You will need substantial protection from such accidents.
Are you willing to invest a lot of money in your work shoes?
Is comfort essential when performing your work duties? Remember that weight can be an issue, leading to fatigue when worn throughout the day. If you stand all day, going light is a good choice.
For the best protection, choose safety boots that comply with the following:
Australian and New Zealand standards (AS/NZS 2210.2:2009 and 2210.3:2010) for optimal protection.
These standards imply that the footwear underwent meticulous impact and compression tests.
Recommended Composite Toe Boots in Australia
Here are our top five recommended composite toe work boots for you:
Don't hesitate to talk to us if you have enquiries regarding the best size, quality, underfoot pierce protection and other safety features.