In an active workplace, you can be on your feet most of the time, working outdoors, or in a messy site. The right clothing will not only keep you comfortable but also protect you when needed. It does not matter whether you work at a construction site or inside a factory. You require the best work pants, so you can perform your job without a hitch.
In theory, buying pants should be painless. After all, they are just pants, right? Wrong! You do not want to end up with a pair of pants that did not live up to your expectations. Worse, they came apart when you need them the most.
As you shop, you will come across these pants from different brands. They have many great claims that could easily entice you to put them into your cart and pay right away. However, you should always consider whether or not the pants are a good deal for your money. It should not just be about the brand name, the colour, and the promises of these companies.
Before you purchase, you should be educated on what to look for, especially if you plan to buy the pants online. To make it easier for you, The Workers Shop will guide you through the entire process. What are the top considerations when buying pants? Here are the answers:
1. Durability
Before anything else, especially if you are concerned with the looks, you should first look at the durability of the product. It is the most important feature when it comes to work pants. You do not want to buy an expensive pair that will last for a short time. You also do not want to pay for the cheapest one you can find because you will end up buying a new one sooner than you think.
You get the most value when you purchase a durable pair of pants. It should last for a year or at least six months if you work in very tough conditions. This way, you end up getting about 50% more out of your purchase.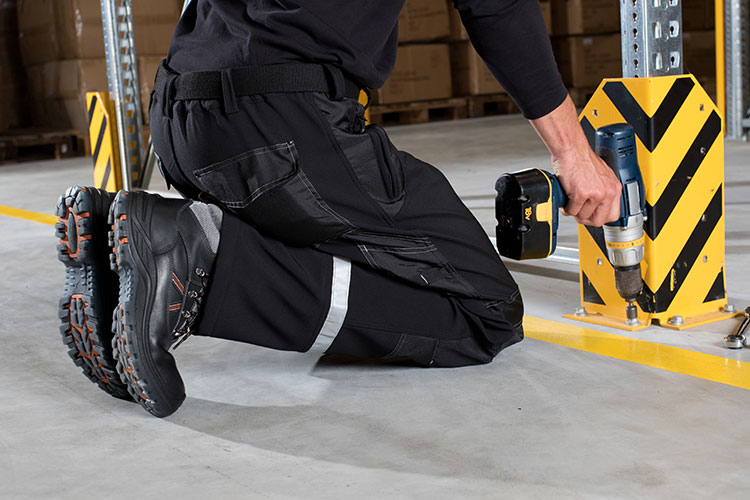 Durability is not just about value though. When the pants are durable, it means you can count on them in case of an accident. You get a little bit more protection when you wear work pants that come with features, such as welding flame-resistance. Some pants are so durable that they can withstand a glancing blow from a saw.
Of course, you do not want to substitute proper personal protection equipment (PPE) with your work pants. However, you should at least be able to count on them to defend yourself in certain situations.
Additionally, some pants can resist tearing and even water. They are designed to keep you dry, so you do not have to worry about changing while at work.
2. Comfort
Comfort should be the second thing on your mind when you shop for workers' pants. However, most people would often ignore the comfort (or lack of it) when buying. They would usually regret their decision in the end.
Think about it; you would choose a worn-out yet comfortable pair of pants over a new one that does not fit properly. It is why the most important factor when looking for comfortable pants is how they fit. Most brands have the same sizes, so it should not be difficult for you to find the perfect fit.
Another thing to look for is breathability. A vented pant like the Bisley trouser for ladies is an excellent example. It features a curved shape waistband and a flat front for the most flattering fit. At the same time, you feel comfortable while wearing it. When it comes to breathability, it has open mesh for efficient ventilation. This way, the pants will not trap heat and humidity, keeping you cool even when you work under the sun.
One more factor to look into is weight. The Bisley Cotton Drill Trousers BP6007 is not only cool but also lightweight. After all, you do not want to work while worrying about the added weight of your pants. Lighter pants also help reduce the strain on your lower body.
3. Fit
Fit and comfort go together but fit also affects how the pants look when worn. There are three main types of how the work pants fit, namely:
Classic: The most common of the three, the classic fit is the average type of fit that most men and women prefer.
Relaxed: When you choose a relaxed type of pants, it resembles the classic fit but you have extra room in the thigh. Also, it is a little baggy in the rear.
Slim: The more modern type or the slim fit pant has slimmer legs. However, it is not tight, so you still have room for moving. The leg openings are typically designed to fit inside the work boots.
You may want to choose the best type that appeals to you while considering what you are comfortable with. Also, do not forget about what your workplace allows, especially if there is a designated uniform.
4. Fabric
The material used should also be considered when you buy work pants. You may be comfortable with denim or perhaps you prefer cotton. Denim pants are comfortable, especially as you keep wearing and washing them. They are also thicker and may be lined with fleece or flannel, making them a good option when working in cold weather.
Cotton, cotton duck, or canvas, on the other hand, is more durable than denim. The pants may be a little more expensive than denim work pants, but they are well worth the money. Cotton duck has a smooth surface but is quite sturdy. It is a good option if you work outdoors, especially in windy situations because it is can block the wind. The material is common in work jackets.
Although canvas is not flame-resistant, it will still perform well even in high heat situations. Both materials, however, require a breaking-in period.
If you are a welder or you work in a flammable site, your workplace may need you to wear pants that are inherently flame retardants. Make sure you look at the label and description of the pants before you buy them.
5. Weight
We have already discussed the lightness of the pants, which is one of the factors you should look at for comfort. However, the fabric or material used will determine the overall weight of the product. Heavier pants can weigh as much as 400g, and they are better for heavy-duty work. Meanwhile, the lighter fabric may be less durable but great for warmer temperatures.
6. Special Features
When you buy a pair of pants, you will encounter many terms, including triple-stitched, reinforced construction or seams, heavy-duty zippers and the like. With all these options, it is easy to get lost and confused.
To make the shopping experience less stressful, here are some features to look at:
Triple-needle seams Such pants are more durable than regular seam construction. With this design, the pants do not fall apart even when subjected to constant and repeated strain and stretch.
Rivets You may also check the rivets of the pants, which are metal pieces that make the seams even more durable.
Bar tacks For even more stitches, bar tacks are used to reinforce the seams further.
Heavy-duty zips Zippers like YKK are built to last and can withstand grime, dirt, and repeated use.
Durable Water Repellent DWR is a treatment that keeps water out of the pants. Therefore, they are suitable when working under the rain, as well as those who consistently work under wet conditions.
Loops You can find pants with extra belt loops, while others have fortified loops. They provide extra support and space when you work with your tools. A form of loop is a hammer loop, which is designed specifically for hammers. You can usually find the loop on the side of the pants.
Reflective tape In some workplaces, reflective high-visibility tapes are required for safety.
You do not have to find pants that contain all these features. You may not even need them for your job. When purchasing, always consider your workplace and its requirements.
Australian Work Wear Laws
All workplaces that have unavoidable risks should provide personal protective equipment to their employees, as per the Occupational Safety and Health Act 1984. Safe Work Australia has guidelines on how to remain compliant with the law, especially when it comes to choosing the right workwear.
At the same time, the workers also must wear their PPE correctly, including their pants. Wearing proper clothing on the worksite is essential to avoid accidents that would have been preventable with the right workwear.
Work pants fall under the category of skin protection. Therefore, they should be comfortable and durable. PPE is still the last line of defence in the workplace. It will only be effective when there are stringent rules in place while the workers and employers work together to ensure safety in and out of the job site. If you're ready to find your next pair of work pants, The Workers Shop have a huge range of work pants for all of your needs, no matter the industry.