Dressing for work does not mean you have to spend a fortune. The key is to make sure you are comfortable and confident. But it is easier said than done, especially for women.
Finding the balance between looking stylish and professional can be tricky. Workwear for women should be appropriate and chic at the same time. Whether you are wearing a smart suit or casual separates, you want to look polished and "dressed for success."
The Differences between Men's and Women's Workwear
Companies typically have strict dress codes for both men and women. Sometimes, it has something to do with the rank in the firm while others depend on their specific job. For instance, female nurses, pharmacy technicians, dental assistants, and massage therapists usually wear scrubs.
There are various degrees of formality in workplace attire. Often, the difference between the clothing of men and women is easily discernible:
Formal AttireFor men, traditional business attire is made of a suit on top of a business shirt. Dress shoes, sports jackets, ties, and some accessories are all part of the ensemble. The accessories, however, should be kept to a minimum, such as watches. Meanwhile, women's formal business attire consists of pantsuits or skirt suits matched with tops or blouses. They usually wear stockings, heel shoes with closed-toe styles. Accessories are encouraged but should be kept subtle as well, such as jewellery and makeup.
Smart CasualMen would generally wear a sports jacket matched with a tie and dress pants. They also don a traditional business shirt, although others prefer a turtleneck shirt. For women, dress pants or a skirt is a good option, along with a top or turtleneck as well. Poplin shirts are excellent choices as well. They are comfortable and smooth, which gives off a real smart-casual vibe. Dress shoes, dressy sweater, and some accessories are also nice.
Business CasualFor men who like business casual attire, the collective outfit is made of khakis, dress pants or sometimes, Dockers-type pants, and a shirt. A golf-type shirt with collars can replace a traditional shirt. Men would often wear vests or sweaters on top of their shirt. Some prefer to go a little bit informal with a casual jacket and tie. Women, on the other hand, choose a nice pair of pants, while others prefer skirts. They also go for tops or blouses and a sweater as well.
CasualAthletic wear, sandals, and casual jeans or pants make up men's casual workwear. For women, casual attire includes casual pants, jeans, or skirts. Lightweight pants are preferred, especially those with a flat front fit, which looks extra flattering such as this Bisley work pant. They also wear sweatshirts and blouses. piping polois also a great option. It is best for those who remain active throughout the day since it typically has a cool and dry material with moisture-wicking fabric.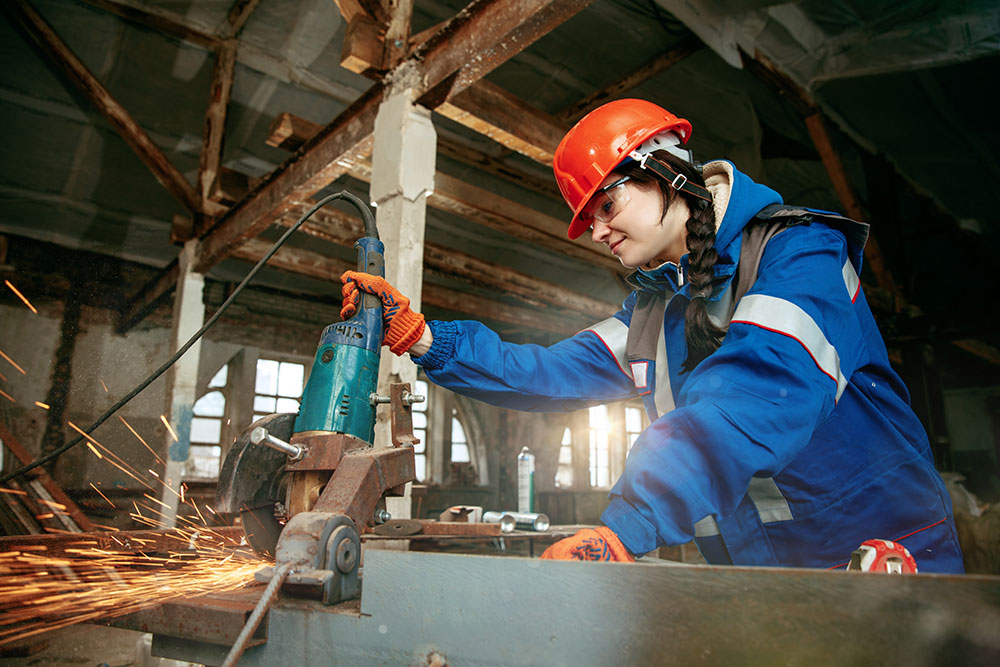 In today's world, you can usually wear what you want at work. However, such freedom still means that you should consider your workplace. You would not choose an outfit that you would normally wear when going to a beach party or even when cleaning at home. Always dress appropriately while considering your comfort throughout the day.
A Quick Look at the Evolution of Women's Work Clothes
Believe it or not, workwear has become quite trendy these days. Google women's workwear and you can easily find models sporting construction boots or silk dresses that are perfect for business casual.
Since the old times though, women's workwear has been about style and comfort. It is a misconception that women only worked at home. They have been a part of the workforce in offices, factories, and other places before the 20th century. However, workplace attire continues to be an evolving concept. During this time though, women frequently wore skirts and heels, along with pearl earrings and necklaces.
From the 1930s to 1940s, female workers became a part of workplaces where men were dominant. The common attire was a dark suit, which was modelled after men's workwear. The difference, however, was the suits for women had knee-length skirts.
A decade later, women started wearing smart dresses, which soon had practical options, such as fabrics that could be washed several times. In the 1960s, women wore feminine dresses with high necklines. More women joined offices across the world as their outfits evolved to modest shell tanks and above-the-knee dresses.
The 1970s showed that women moved on to wearing form-fitting clothes at work. Older women opted away from blouses, which they thought looked too youthful for them. They preferred more structured jackets instead. Young women, on the other hand, enjoyed wearing casual separates, including jeans and T-shirts.
The 80s was the era of power suits where women wore conservative clothes while separates remained. The attire allowed women to dress for work and stay for some cocktails afterwards. Padded shouldered jackets completed the power look.
In the 90s, women opted for comfortable tops with oversized jackets. Shoes with low heels were more popular than high-heeled ones. It seemed like more and more women were choosing the everyday attire look.
What about today? Numerous style choices are available, allowing women to dress how they want while staying professional. When 2000 entered, almost 60% of women were already a part of the workforce. They could wear what they were comfortable with, including pants and even denim.
The last decade showed a complete overhaul of workwear in Australia and several places around the world. Restrictions on workwear, particularly for women, still exist, but they exist for company branding and safety as well.
How to Pick the Right Workwear for Women
Whether you admit it or not, the way you look at work plays a role in your success. In reality, your appearance can influence performance. You need to fit in, so you feel accepted and welcomed; otherwise, it could hurt your chances of getting promoted.
While casual wear becomes even more popular in the modern workplace, you should still stick to the rules of your company. Dressing appropriately for work can be achieved with the following tips:
Understand what is suitable in your industry.Some companies may allow you to wear skirts, but not above the knee. Know what is permitted before you commit to the attire you wish to wear.
Wear tailored clothing.When something is correct for your measurements, the clothing will look good on you. Of course, you will have to spend more money, but you still get a high-quality piece of workwear. If you do not want tailored clothing, you should make sure you get the right size. For instance, this JBS piping polo has a wide size variety from eight to 24, so you can choose the best one for you.
Be wary of colourful and patterned clothing.Some workplaces allow colourful clothing, but others require the employees to wear conservative colours and fabrics. To be always on the safe side, go for dark grey pants and suits. Navy and black are also great options, especially for professional clothing. If your workplace permit cocktail dresses, note that they are not appropriate if you have a business meeting.

As much as possible, stay away from extreme colours and patterns. Your office is not the best place for you to express yourself or your personal statement.

Stick with modest necklines.Avoid wearing revealing clothes. Modest necklines, long hemlines, and simple clothing can still make you feel confident. You are guaranteed to look professional as well. Leggings and yoga pants are a huge no-no, too. If you do not want to wear a skirt, choose elegant trousers or work pants, which of course do not have rips.
Dressing for your job, internship, formal event, or even an interview can be stressful. If you follow the tips above, you will undoubtedly perform great. At The Workers Shop, we have a huge range of Women's workwear for whatever you needs.